When you're into the BDSM scene there aren't always resources readily available for you to keep up on all the new kinks and happenings being shared around the world. It's time for you to check out FEMDOMING to immerse yourself in this BDSM lifestyle magazine.
Interested in some sissification, or want some guidelines on how to be a better submissive? Then it's time you delve into some FEMDOMING to see what the pros have to offer in the ways of advice. There's something for everyone in the kink world, and this guide will give you the helpful hints you've been looking for.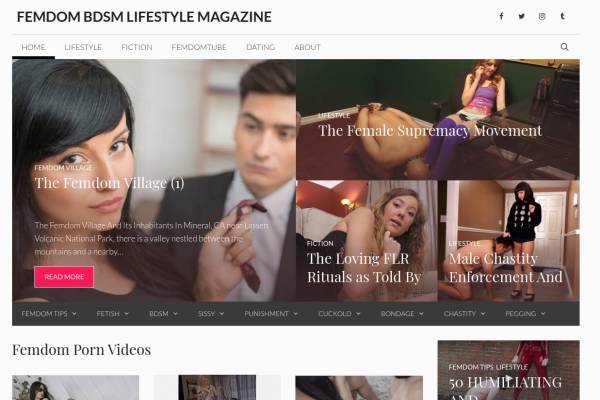 Looking into the BDSM lifestyle has never been easier once you learn about FEMDOMING and the incredible ladies of dom.
The FemDom Lifestyle
If the Cosmo, Forbes, and Match all had a love child with a bent on female domination, then it might come out looking like Femdoming. This site offers so many different options in regards to resource articles about different forms of dominating, along with lifestyle articles, subsets of different domination categories, and dom dating. It was a pleasure to peruse the range of femdom styles out there, read up on relationships in the lifestyle, and watch some extremely helpful training videos as well.
Summing Up For Subbing Up
Whether you're looking for just some interesting literature on different categories of domination, you wish to submit an article, or desperately want to find the right femdom for you, this site is definitely for enthusiasts on both sides of the domination coin. Subs can learn how to be the best sub they can be through reading articles around designing the right contract between them and their dom. Those in search of erotic domination fantasies can peruse the fictional literature section to excite themselves with the writings of erotic authors. There are even some fantastic training videos to learn how to properly train your slave, or how to be a better submissive. Overall, this site is filled with resources for the range of BDSM slaves and dominatrixes.
Features
8Wide selection of lifestyle articles and BDSM fiction
Beautiful layout and design that is easy to navigate
Arranged subsets of each individual category
Access to connect with femdoms
Domination and training videos
Article submission
User Benefits
For anyone interested in a BDSM lifestyle, this site is filled with resources in the way of articles written by professionals in the business of domination. Not only that, but you'll have access to training videos, discussions about good contracts to provide that healthiest sub/dom relationships, and the ability to connect with actual femdoms. There's also a healthy dose of fantasy fiction dealing with BDSM for anyone wanting to fall into the sensual creative worlds of different erotic writers. The feel of this site is that you've entered a well curated collection of some of the best that the femdom world has to offer.
Drawbacks And Complaints
Though there aren't that many videos offered on this site, the ones that are offered are well put together and informative. If you came looking for tons of erotic images, then you'll find some excellently shot ones, but not a huge selection of them. The feel of the site is one of professionalism, which may not be exactly what everyone is looking for in a BDSM site.
The Bottom Line
The writing and videos on this site are excellent and informative, and would suit anyone interested in just learning about a sub/dom lifestyle, partaking in some fiction about it, or actively pursuing it in a professional sense.